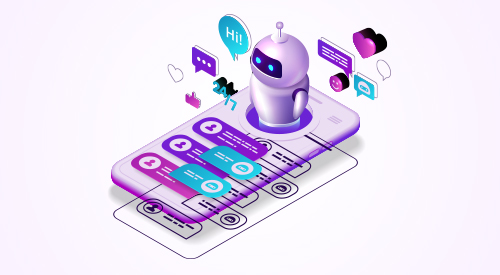 An AI powered chatbot is a software program designed to simulate conversation with human users, especially over the Internet. While the technology is still at a nascent stage and adoption is slower than it should be, chatbots are frequently used in situations that can alleviate the workloads on a human customer service agent, such as a customer service department with thousands of customers. They are also used in situations where it is not cost-effective to have a human employee to perform a task that requires intelligence.
At Niveus, we employ Google's DialogFlow to create our conversational chatbots. Our chatbot services have been leveraged by some of the top banks, finance companies, healthcare players, BPOs and more. In this blog, we take a look at chatbots and the impact we have delivered across businesses with a few of our own.

What is a chatbot?
A chatbot (also known as a talk bot, chatterbot, Artificial Conversational Entity) conducts a conversation via auditory or textual methods. Such programs are often designed to convincingly simulate how a human would behave as a conversational partner.
Chatbots are typically used in dialog systems for various practical purposes including customer service or information acquisition. The term "chatterbot" was originally coined by Michael Mauldin (creator of the first Verbot, Julia) in 1994 to describe these conversational programs. Today, most chatbots are accessed via virtual assistants such as Google Assistant, via messaging applications such as social media, or via individual organizations' apps and websites.
Why use an AI powered chatbot?
Chatbots are a great way to add a human touch to your website without having to actually hire and train employees to man your help desk. They have grown in popularity in recent years thanks to the improvement of technology and the ease of developing them.
Many organizations leverage chatbots that will help you find specific information and services, address grievances and complaints, and answer FAQs. More the complexity of business operations, the more the need for organizations to leverage the expertise of players such as Niveus for building smart chatbots powered by GCP's DialogFlow.
Niveus' smart chatbots
Our innovation team worked with one of India's top finance companies to build and integrate our chatbot solution with the client's web application platform, enabling their customers to proactively resolve queries and receive personalized messages at scale.
We also delivered a state-of-the-art healthcare chatbot for a healthcare provider based in the US, which allows for patients to receive virtual care with preliminary diagnostics and workflow based doctor-patient consultations and in person appointment bookings.
A leading BPO identified through research that customers reach out to customer support for any voluntary changes in their travel schedules that constitute 25% of all call volumes received by the customer support. Niveus expedited this process by developing a conversational chatbot and voicebot, which can be used by the customers for making required changes to their travel schedules, allowing customer service teams to focus on other calls.
What is GCP's DialogFlow?
DialogFlow is a Google Cloud product that allows you to build conversational interfaces for your website, mobile app, and IoT device. It is a kind of a conversation app that powers chatbots and voice apps.This service is a natural language processing (NLP) and machine learning platform that interprets the user's intents, understands the user's requests, and gives the user relevant responses.
DialogFlow provides an awesome UI, as well as a great customer support team that answers all your questions within an hour or two. It's easy to use and integrates with other GCP products like Cloud ML, BigQuery, Google Storage, and Cloud Datastore. It has a rich ecosystem of third-party integrations and plugins that you can use to extend its functionalities. It's available for Android, iOS, and the web.
Benefits of Niveus' smartbots
Here are some features that global businesses love about our smart chatbot:
– Real-time text response
– Audio-video calls
– End-to-end encrypted digital files sharing
– Lifelike conversational AI through virtual agents
– Works across platforms including web, mobile, and messenger
– Support for regional languages

A bot can prove to be an ideal customer service tool, so it is worth exploring if you have the right needs. Let us help you build an AI-powered bot that can truly change the game in your industry by creating a smarter, more human-like chatbot for your business. Get in touch with us at biz@niveussolutions.com