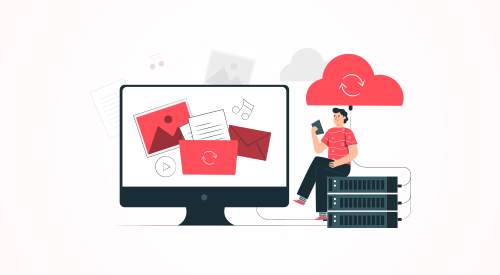 Businesses of all sizes are jumping on the cloud storage bandwagon and are realizing how useful it is to have a backup of their data. They offer many benefits like easy file sharing and accessing your files anywhere there is Internet access. But with so many providers out there, how do you decide which cloud services in Singapore work best? We will look at factors to note while choosing the best cloud storage providers and services in Singapore, hopefully making your next choice of cloud storage easier.

What are cloud storages?
Cloud storage refers to the storage of data (files, photos, videos etc.) on a remote server that is accessible from different devices through the internet. As a consumer, you may not have to think about storage a lot. The cloud storage providers take care of that for you.
If you have ever used Dropbox, Google Drive or Box, you're already familiar with cloud storage. These cloud storage providers allow you to access your files from anywhere in the world. While cloud storage is a great way to store your files and access them anytime, it's also a great way to share them with others. If you want to get the most out of your cloud storage experience, it's important to understand the different features and benefits of each provider so that you can leverage the right partner for your requirements.
Factors for choosing a cloud storage service provider
As it is with anything else, there are pros and cons to using cloud storage services. This means that there are certain things you need to take into consideration when choosing a cloud service in Singapore. We recommend Google Cloud Platform.
Data storage plans – Saving data on cloud storage can blow a big hole in your organization's modernization budget, if done without careful consideration. Each storage provider available has different storage plans curated with different target customers in mind. The nature of the workload that your organization works with, is key to identifying the kind of plan that works best for you. In terms of cost, GCP leads the cloud game. Instead of spending twice for storage and forcing applications to perform at two speeds (slow on cheap storage, normal on flash), Google Cloud gives you the flexibility to configure your storage for any type of use. Start with classic storage for low cost and easy access, then move critical data to fast and expensive flash when it's needed most.
Accessibility and uptime – Ensuring your data is accessible round the clock and minimizing the risk of downtime is a major part of leveraging cloud storage the right way. Choosing a cloud storage provider that has the necessary reliability and accessibility protocols in place is a prerequisite to ensure that your data is available quickly and easily. With GCP's cloud identity and access management, you can control the access paths for your data, not only ensuring if the right access is given, but also protecting your data against malicious agents.
No data loss – Data loss on cloud can spell disaster for organizations. Having multiple layers of redundancy and doubling down on data is a good way to secure against data loss. With turbo replication, an industry-leading premium feature, Google Cloud's customers with a dual region storage plan can enjoy the benefits of a 15-minute replication point objective. With these features, all data is replicated every 15 minutes into a different region.
Security – A secure cloud storage is a paramount for organizations moving to the cloud. Ensuring that your data is not only secure but also recoverable is a key need while on cloud. Alongside Cloud IAM, GCP features such as disaster recovery, object versioning, intrusion detection, advanced firewalls, event logs, internal security plans and much more, allowing the best-in-class protection for your data.
File encryption – Ensuring data anonymity is key to ensure no leaks occur. GCP encrypts data not just at rest but also in transit to and from cloud storage spaces. With its customer centric security approach and introducing a zero trust security policy, GCP provides options such as customer-managed and/or customer-supplied encryption key for encrypting data at any time.
Google cloud services in Singapore
GCP in Singapore provides some of the best data storage solutions tailored to suit your needs and requirements. The cloud-agnostic nature of GCP also allows you to avoid vendor lock-ins and even leverage hybrid and multi-cloud environments as a part of your data storage strategy. 
GCP Partners in Singapore, such as Niveus, help you to map your data, its location, and what state it is in, to finally connect you to your befitting cloud storage solutions. To see how GCP cloud storage services can benefit your business, get in touch with us at biz@niveussolutions.com