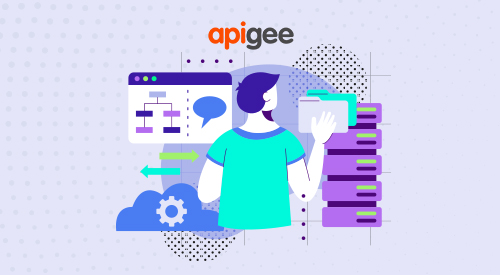 As businesses of today evolve to quickly become device and platform friendly, we see businesses accommodating application-experience into their products and services as a priority. Consumers are reaching for apps that can do more than just one service- A plethora of activities such as purchase, consultation, money transfers, bill payments, and so much more are possible from a single application such as Google Pay, Makemytrip, Amazon and so many more, all thanks to APIs integrations! Moving from a digital first to an API-first economy then becomes increasingly mandatory for businesses as they develop their digital experiences to meet consumer demands-this is where Google's Apigee comes in!
API-first is a mindset change to development in which one considers only the end user's experience as a priority. Business focus shifts entirely to consumer needs via a feedback loop and what service they might want in order to get jobs done more efficiently. This helps build or consume APIs from other partner integrations – on time and every time!
Embrace the API-first economy and leverage the power of Google's Apigee for seamless application integration
What is Apigee
Apigee is Google Cloud's API management platform that provides API consumers with API security, monitoring and analytics. The platform helps organizations build better digital experiences for older backend services, microservices, hybrid or multi-cloud environments, and fully serverless stacks. A top provider of API technology and services for developers and enterprises across the globe, Apigee offers customers channels that let them securely share data and services between businesses on a variety of platforms like mobile apps, websites and IoT.
Apigee is the six time consecutive Leader of Gartner's 2021 Magic Quadrant for Full Life Cycle API Management.
Benefits of Apigee
Apigee is an essential tool for all modern enterprises. It provides the building blocks for businesses to design, deploy, manage and monetize APIs. Perhaps most importantly, Apigee allows enterprises to connect existing systems and applications to APIs, providing the flexibility to leverage existing investments while building new, modern applications that are connected to existing systems. This is easy to say but what are the top benefits? We've broken them down into four categories:
1) Streamlined API Development- Apigee helps producers to create API products and let consumer developers know about the availability of your API products. This enables an API-first culture with the API Product Mindset between developers, helping organizations to move from digital-first to API-first strategies. Consumer developers can register as an app developer for your products, create API-keys, and request via API-key for using your API products. API reused using shared flows which leads to less management, more innovation and faster GTM.
2) Managed API Security-Unmanaged APIs are a risk to businesses because they may be used for malicious attacks and/or negatively impact a business. Protecting these apis and their applications then becomes crucial to the sustainability of your digital ecosystem. With Apigee, all standard authentication mechanisms are supported out of the box.
3) Connected Customer Experiences – Businesses are now required to bring connected digital experiences to their end- consumers. Managing the subsequent army of APIs and delivering a seamless digital experience then requires the management proficiency of Apigee. Apigee helps the businesses to unlock the value of connected services and products for your customers, partners and employees. The developer portal plays a key role in ensuring that the APIs created are shared in a controlled manner.
4) Hybrid and Multi-Cloud Deployment- Apigee helps your APIs to handle device scales securely, manage developer ecosystem regardless of type, adapt to new innovation such as IoT and more across environments including private and public cloud, SaaS, other endpoints, as well as on premises.
Apigee services
Apigee manages the entire lifecycle of APIs and its operations, which includes API governance, security, monitoring, analytics and more. Two developer audiences that benefit from an api-management tool – builders/managers who produce APIs and consumer developers who use the APIs within applications. Producers are looking to design an easy-to-use API, taking note of ensuring continuity and updates, while also maintaining security, compatibility across platforms and monitoring and analysis of performance. Consumers are looking for APIs they need, and also understand how to use them.
Apigee provides the developer portal that helps consumers to find your APIs, and rapidly understand them with the intention of using them to build their applications.
It also provides the monitoring and analytics portal for producers to monitor well-performing APIs, and also analyze why they are doing so.
The API runtime portal executes the policies you have configured for security, traffic management and efficiency of your APIs.
Transform Your Business Into A Platform-Friendly Powerhouse With Google's Apigee