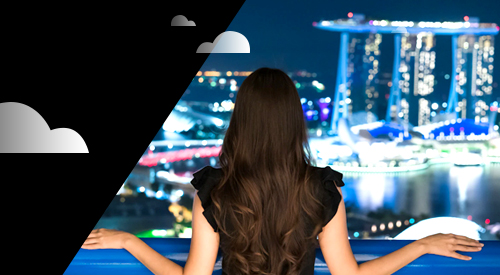 In regions of booming technological growth, such as the APAC territories, cloud service providers are identifying and carving significant opportunities for innovation. Google Cloud Platform or GCP, launched in 2008, is home to the big cloud computing product successes including Google Kubernetes, BigQuery, Anthos, Apigee and more. The cloud industry is marking unprecedented growth, allowing GCP in Singapore to become the fastest growing cloud provider rivaling AWS and Azure. For business leaders in Singapore, this means that GCP can provide a lot of opportunities for revolutionary growth.

Cloud industry in Singapore
Cloud computing is a big umbrella term that encompasses a lot of different services and providers, but it is generally understood to be any computing that is done over a network, rather than on a computer or hard drive. The global cloud computing market began in earnest in the early 2000s, when a handful of companies began offering services to run programs and store data for clients over a network. The idea was that companies would pay for these services instead of buying their own hardware and software, allowing them to take advantage of a flexible, scalable and cheap service. The industry has grown in leaps and bounds since then, with new services and providers appearing seemingly every day.
In Singapore, the cloud industry is relatively new. A firm-footed Google continues to challenge cloud service providers, AWS and Azure with its innovative solutions including the widely successful Google Workspace – which has led to a wide adoption of the cloud. By hiring top talents & services partners, the young cloud provider has been catering to a versatile roster of industries and enterprises in Singapore alongside multiple partnerships with the Government of Singapore.
GCP bridges the gap between business needs and cloud solutions such as improved customer acquisition channels, business expansion solutions, Artificial Intelligence and Machine Learning, and much more. GCP's multi and hybrid cloud offerings including Anthos and Apigee provides key flexibility for growing enterprises and startups.
By leveraging Google Cloud partners such as Niveus, Singapore's businesses including those in the automotive, logistics, media and entertainment industry and many more, are breaking ground on modernization with cutting edge technologies and services.
GCP Success Stories in Singapore
Here are some leading businesses in Singapore that have benefited from Google Cloud –
A leading media and digital organization has been leveraging GCP services for their data operations and more. By incorporating a data warehouse and analytics platform with BigQuery and Google analytics, they have been driving their decision-making strategy with a data-centric culture. The organization, from the management to the analysts and journalists, incorporate deep insights on their audience behavior for meeting business needs better. They have also improved their user engagements across their publications.
A BPO headquartered in Singapore providing intelligent technology and solutions for the advertising, marketing, and human resources industries, is meeting its business and technical requirements by leveraging GCP's best practices for cloud innovation. They have minimized their costs and human involvement for back-end administration and maintenance tasks, driving their focus and skills towards their core operations instead. They have also automated scaling for their applications with Google's App Engine to meet their fluctuating user traffic, even up to a variance of 5 times the normal, with no downtime or loss of service speed.
Singapore-based logistics startup opted to launch their business to GCP for kickstarting their cloud journey. Reliability, scalability, zero downtime and high velocity innovation were at the core of their migration requirements while moving to cloud in order to continue its 24/7 operations in meeting end-to-end logistics management needs. With GCP, the startup has been keeping up with a multifold growth in operations in a post pandemic economy.
A statutory board under the Ministry of Culture, Community and Youth of the Government of Singapore leveraged Google's Vision Artificial Intelligence solution for automating photo tagging and categorization of its images. A pre-trained model, the AI algorithm is capable of detecting components of an image including backgrounds, colors, logos, faces and much more, and accordingly apply the right tag for the specific image. Automating the process of scanning, identifying and tagging photos has allowed for the organization to streamline its efforts and staff to focus more on platform development and user engagement.
Google Cloud Platform (GCP) is a powerful set of cloud computing services that work together to help businesses build, run, and maintain their operations and processes in a modern manner. If you want to learn more about what Niveus and Google Cloud can do for your business, or are planning for an AWS to GCP migration or an Azure to GCP migration, please email us at biz@niveussolutions.com