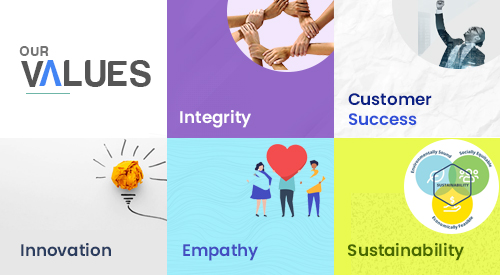 It is a proven fact that companies with clearly defined values are better aligned than those without. What's even more interesting is, those companies that communicate their values to the public are even stronger from a point of view of establishing their foundation right. A company that is committed to its core values and ideals as stated to the public, is a company that will perform better in the long run. This is because they think about the business and the larger context in which they operate as well as the consequences of their actions and the effects they have from a holistic ecosystem stand point. i.e. the business environment as well as the community.

A number of successful organizations live their values by not only promising to their customers, but also by actually delivering the product or service. This success is not only related to the fact that the organization can be trusted, but also that when there is a problem, the organization can be trusted to take care of it. An organization that lives their values is more likely to have loyal customers, employees, and other stakeholders.
How our core values help differentiate our business
Values are the most important aspect to the company. But what does this mean to the customer? This is where the essence of a company's values comes into play.
Better perception: Values are a large part of why a customer chooses one company over another. The customer wants to know that the company they are buying from is ethically sound and that they live the values they say they do. This significantly improves customer relationships and public perception.
Better growth prospects: A company that lives their values is a company that will be around for longer, as customers will keep coming through the doors. A company that lives their values on a day-to-day basis is a company that will grow.
Prevention is better than cure: By having the necessary values identified and incorporated right at the onset, organizations can avoid the heartaches that come with running a company that ignores its values.
Niveus Values
At Niveus we are pledging to incorporate core values we have identified as the cornerstones of our growth. Here's highlighting these 5 values that everyone in the organization works to uphold and exercise every day.
Integrity: We conduct ourselves with integrity and maintain high standards of ethics in our professional life. Our partners, whether colleagues or customers, can always be confident that our intent to deliver would be uncompromised even in the most challenging situation.
Customer Success: We endeavor to put all efforts to understand what it would take for the customer to succeed. We deliver to our best by imbibing ownership, collaboration & agility through the understanding that our customer's success drives us ahead to meet our goals and objectives.
Innovation: We are keen on driving innovation and staying ahead of the curve, not just in the solutions we provide, but also in our services, processes and our business model.
Empathy: We support and respect everyone's worth and dignity, regardless of background, ability or beliefs. We strive to create an open environment in which constructive criticism is encouraged and an open dialogue is fostered.
Sustainability: We believe in nurturing and growing our ecosystem to promote a balance, where our current needs are met without compromising the needs of our future generations. When we grow, we are committed to growing our community.
Every business organization needs to have a set of values. We believe our values will not only propel us further ahead, but also anchor us to the roots that we have put down along the way.