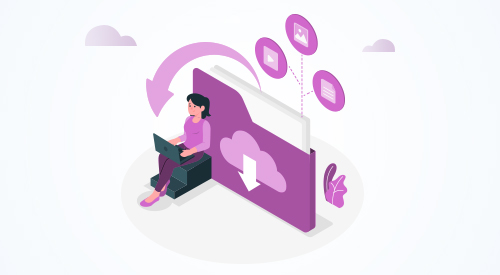 Global spending by regular people on internet-based services will increase by 21.7% in 2023, reaching a total of $597.3 billion. This is a jump from $491 billion in the previous year, as predicted by Gartner, Inc. Cloud computing is pushing forward the next stage of online business, with companies aiming for big changes using new technologies like advanced artificial intelligence (AI), Web3, and the metaverse. At the forefront of this revolution is Niveus Solutions. Founded in 2013, the company's roots in Mangaluru and Udupi, India, are intertwined with a commitment to tap into local talent and create a top-tier cloud engineering services firm. Here we will look at some of our most extensive and impactful transformations delivered across our verticals, for a variety of businesses and industries.
Elevate Efficiency. Embrace Cloud Technology Today
As more businesses turn to cloud, we see a tangible requirement for the deep expertise that a partner such as Niveus carries. With the kind of work we have done with businesses across industries, it is only fitting that Niveus is recognized as a leader in the field of cloud tech.
The Niveus Impact and Expertise
Operating in major cities like Bengaluru, Delhi, Mumbai, and Singapore, Niveus Solutions serves a diverse clientele, from BFSI, Healthcare, Manufacturing, Digital Natives, and more. As a Google Cloud Partner, our suite of services covers cloud consulting, modernization, migration, development, security, and managed services, enabling businesses to thrive in a cloud-centric world.
Niveus Solutions' ascent has been swift and strategic. By exclusively aligning with Google Cloud India in 2019, the company became a 'Premier' partner within two years, a feat recognized by the 'Breakthrough Partner of the Year – Asia Pacific' award in 2020. We've also gained a double victory at the 2023 Google Cloud Partner Awards, securing 'Services Partner of the Year – Asia Pacific' and the 'Expansion Partner of the Year – Asia Pacific' for the year. Bolstered by multiple specializations – including Google's Infrastructure Specialization, Application Development specialization, and Data Management Specialization – Niveus stands as an industry leader in the cloud solutions.
In the following sections, we unveil compelling stories of India and APAC businesses that have partnered with Niveus Solutions to conquer their cloud aspirations, showcasing the tangible benefits of this transformative collaboration.
Cloud Adoption Infrastructure Modernization
Transforming Business Operations with Cloud
In our first adoption story, we take a look at our infrastructure modernization arena. We delve into the transformative journey of a leading Ad Tech company as they embarked on a cloud migration with the guidance of Niveus Solutions. Faced with challenges stemming from their existing infrastructure, the client recognized the need to leverage cloud solutions for enhanced efficiency and innovation. Niveus Solutions stepped in as a trusted partner, aiding in the seamless transition from their previous cloud service provider to Google Cloud Platform (GCP).
Navigating through intricate challenges, Niveus Solutions meticulously developed a GCP architecture equivalent to the client's former AWS setup, ensuring a seamless transition of workloads. Through expertise, Niveus not only replicated services but also identified opportunities for optimization and enhancement. The result? The client witnessed a remarkable transformation. Efficiency levels surged, downtimes were minimized, and the overall customer experience was elevated. With this, the client initiated a worldwide retail media expansion strategy, while achieving a 30% reduction in ad server response time. Additionally, they successfully lowered data processing query time for AI analytics by over 60% through the utilization of Google Cloud solutions.
This adoption story stands as a testament to how strategic partnerships, coupled with the prowess of Niveus Solutions, can drive substantial benefits through cloud adoption. It exemplifies how a well-executed transition can pave the way for a brighter, more efficient future in the digital realm.
Achieving Excellence with Migration to GCP
We reimagined digital transformation for a leading provider of automated parking systems as they embarked on a strategic migration to Google Cloud Platform (GCP) in collaboration with Niveus Solutions. The driving force behind this decision was the client's commitment to enhancing value for their end-users through a seamless user experience, cost-efficiency, and the ability to innovate with agility as they expand their operations. In under 2 months, the client executed an intricate migration, achieving 60% faster homepage load times. They also realized up to 5x faster launches on new products, all while crafting an ML-driven expansion strategy using Google Cloud, thanks to Niveus
This transformation wasn't just a decision; it was a comprehensive plan that the client's team envisioned hand in hand with Google Cloud Platform. Their objective was to smoothly migrate their existing workloads from AWS environments to GCP, ensuring undisturbed continuation of services while tapping into GCP's cutting-edge features.
With Niveus Solutions' expertise and guidance, the client executed this migration with precision. As a result, they experienced not only a seamless transition but also an array of newfound advantages. The move to GCP allowed the client to provide their users with an enhanced experience, optimize their cloud costs, and gain the flexibility needed for rapid innovation as they scaled their operations.
Cloud Adoption Application Modernization
Scaling New Heights with a Leading Private Bank
In our second captivating adoption narrative, we delve into the journey of a leading private bank. Our application modernization solutions are specifically tailored for institutions such as our client, with a resolute mission to reach new summits through the power of cloud adoption. Their specific aspiration was not only to embrace cloud services but also to harness their potential to foster remarkable growth and operational excellence.
Guiding this transformation was Niveus Solutions, a pivotal force in crafting a tailor-made cloud strategy that precisely aligned with the Bank's unique objectives. The focal point of this strategy was to leverage the comprehensive capabilities of the cloud to amplify agility, facilitate global expansion, and streamline core operations.
The harmonious collaboration between the Bank and Niveus Solutions bore fruit in truly remarkable ways. The strategic adoption of cloud services ushered in heightened agility, allowing the Bank to deftly navigate market shifts and swiftly adapt to evolving customer demands. Furthermore, the newfound scalability empowered the institution's global expansion endeavors, enabling it to establish a presence in previously uncharted territories.
This cloud-fueled transformation extended to the very heart of operations, eliminating inefficiencies and bottlenecks that had once impeded progress. Guided by Niveus Solutions, The Bank achieved an all-encompassing transformation that not only elevated its operational capabilities but also positioned it for sustained success in an era defined by digital innovation.
Revolutionizing Automotive Pre-Booking with Niveus Solutions
This is the story of a leading automotive manufacturer's journey towards innovation, guided by Niveus Solutions. Faced with the challenge of creating a scalable microsite for pre-booking and booking stages, the manufacturer aimed to handle peak loads while ensuring seamless user experiences. They anticipated a high number of concurrent users within an hour as they prepared to launch their latest rendition of their iconic SUV.
Before adopting cloud solutions, the manufacturer grappled with responsiveness and scalability issues, leading to performance hiccups and customer dissatisfaction. Turning to Niveus, a dynamic app was crafted with deep linking capabilities, user acquisition-focused features, and real-time updates on pricing and unit availability. Integrations with Payment Gateway (PayU), Email, SMS, and WhatsApp further enriched the experience.
The results were transformative. Niveus's cloud expertise not only tackled performance challenges but also improved efficiency and minimized downtime during peak loads. The unveiling of the latest SUV marked a pivotal opportunity, establishing an entirely novel vehicle booking channel, which turned out to be an immense triumph. On launch day, the new booking platform shattered numerous records, garnering an astounding 25,000 booking requests within the first minute and an impressive 100,000 booking requests within the initial 30 minutes, culminating in an impressive USD 2.3 billion in vehicle sales.The shift led to elevated customer engagement, providing seamless interactions and real-time updates. This adoption story captures Niveus Solutions' role in turning cloud technology into operational prowess, creating a remarkable customer journey in the automotive landscape.
Cloud Adoption Data modernization
Elevating Quality Assurance with Niveus Solutions
We believe in the power of data modernization to drive radically innovative technology. Here, we take a look at the transformative journey where Niveus Solutions led a multinational product manufacturing company to reimagine product quality assurance through data and cloud innovation. Seeking to swiftly identify defects and enhance their products and services, the client grappled with challenges before embracing cloud solutions.
Struggling to detect defects across various surfaces, they turned to Niveus for an automated solution. Niveus seamlessly integrated image processing and AutoML tools in the cloud, eliminating the need for specialized knowledge. The solution facilitated defect identification for the client through categorized criteria. This encompassed factors like defect location (above/below/on the surface) and defect attributes (color, texture, physical properties). The defect categories comprised issues such as algae, blisters, sand-like particles, efflorescence, patchiness, peeling, poor adhesion, rough finish, shade fading, and others.
The outcome was striking. Efficiency soared as defects were rapidly identified, reducing downtime and elevating customer experience. Niveus played a pivotal role in turning cloud potential into tangible operational excellence, demonstrating the power of partnership and innovation.
Powering Connectivity for the Old and New
Before embracing the cloud, a leading automotive manufacturer in the electric scooter segment encountered challenges in delivering a seamless, secure, and user-friendly experience to its users. Their vision for a scalable IoT-based Telematic Platform demanded a solution capable of offering real-time insights into their connected vehicle fleet—for both current models linked via Bluetooth Low Energy, and newer generation vehicles equipped with IoT devices. However, achieving this was complex, especially as it was set to roll out in phases. The initial pilot phase, involving 100 two-wheelers, required a scalable and robust approach.
Here, Niveus Solutions emerged as a guiding light, orchestrating a transformative journey. We architected a Cloud-native Telematics platform available on Android and iOS devices. This platform not only facilitated real-time insights into the client's connected vehicle fleet but also delivered the seamless, secure, and user-friendly experience desired.
Niveus Solutions played a pivotal role in assisting the transition by crafting a scalable IoT-based solution. This approach accommodated the two versions of vehicles, ensuring a smooth transition for both existing and new users. The outcome was tangible: the client reaped improved operational efficiency, minimized downtime, and, most importantly, elevated customer experiences. Through this strategic partnership, Niveus Solutions turned the client's cloud aspirations into a reality that translated into operational excellence and customer delight.
As we reflect on these adoption stories, one thing becomes evident: cloud adoption, when approached with vision and the right partner, unlocks a world of possibilities. It's a journey that reshapes the way organizations operate, innovate, and connect with their stakeholders. The future of business is in the cloud, and with Niveus Solutions as a trusted ally, the path toward success is illuminated by innovation, efficiency, and the unwavering commitment to delivering excellence in a rapidly changing landscape.
Cloud's Edge: Redefining Business Paradigms Worldwide with Niveus