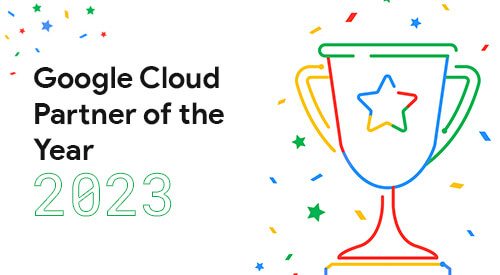 Every year Google Cloud presents Partner Awards in different categories to honour selected partners who demonstrate innovative solutions and best-in-class customer experience. We are thrilled to announce that this year Niveus has bagged the 2023 Google Cloud Service Partner of the Year and Expansion Partner of the Year Asia Pacific awards. We are extremely proud to be recognized for our accomplishments in the Google Cloud ecosystem. We achieved this milestone in around 4 years of entering into a partnership with Google Cloud in India, all thanks to the efforts of our team!
Headquartered in India's temple town, Udupi, Niveus is now leading the cloud services game in the APAC region. We solve complex business problems by engineering solutions that revolutionize how organizations work, setting new industry benchmarks for clients across BFSI, Healthcare, Automotive, Media and Entertainment, Public Sector, and Digital. From facilitating remote banking for millions of Indians through a unique digital platform for a leading private bank to enabling subtitle automation for an Indian media and entertainment behemoth, Niveus has championed many impactful initiatives. We help our customers realize their business goals by empowering them with the power of the cloud. Today we are glad to receive the Google Cloud award as a validation for enabling and driving the digital transformation journey for several customers in the APAC region.
"Google Cloud's partner awards recognize the significant impact and customer success that our partners have driven over the past year. We're delighted to recognize Niveus Solutions as a 2023 Google Cloud Partner Award winner, and look forward to a continued strong partnership in support of our mutual customers."
Kevin Ichhpurani | Corporate Vice President, Global Ecosystem and Channels at Google Cloud.
We credit our success to our novel culture of problem-solving, which is ingrained in our team. Our brand identity "We Solve For You" celebrates our eagerness and capability to take on unique challenges and solve them. We bring the same approach of empathetic understanding and innovative solutioning to the table whether they are for our customers, Google Cloud, our own team, or for the larger ecosystem in general.
We are proud of adding another feather in our cap! Winning this award feels remarkable and calls for some serious celebrations, but we are equally aware of the responsibility it brings with it. The game has only started for us, and there are many more milestones to unlock and celebrate along the way.
"We're proud of the achievements we've made in the previous year and are excited to be named Google Cloud Services Partner of the Year – Asia Pacific and Google Cloud Expansion Partner of the Year – Asia Pacific. We are recognized for our strong partnership with Google Cloud and our best-in-class use of Google Cloud products and services, coupled with our expertise. Winning this prestigious award is a true testament to our agility, innovative leadership, exceptional customer service, and the remarkable growth that we have achieved,"
Suyog Shetty | CEO of Niveus Solutions