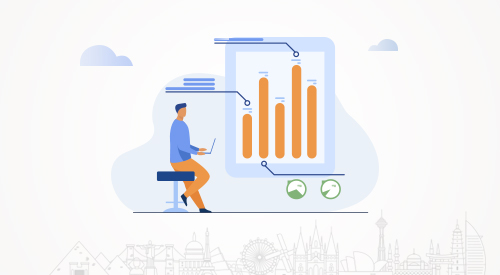 Demand forecasting analytics is an important component of managing a business, especially when it comes to operating in Singapore. Singapore is one of the most demanding markets in the region, and companies here have to be able to predict demand to manage their supply chain. The way to do this is by using demand forecasting analytics software or solutions. To drive demand forecasting analytics in Singapore, Niveus and GCP have created solutions designed to extract useful business intelligence from the vast amount of data collected by advanced supply chain management software.
Gain accurate demand forecasting solutions with Niveus
Demand forecasting for businesses
Demand forecasting is necessary for companies that have variable demand and supply seasons. It is important for businesses to predict the demand for their products and services so that they can minimize the costs for stock, purchase orders and staffing. Leveraging solutions with predictive data analytics provides an organization with the ability to identify trends, make better decisions, and ultimately grow revenue.
The demand forecast is the prediction of the future demand for a product or service. Demand forecasting is a critical component of the supply chain management process. The supply chain of the organization is used to determine the quantity of products that the business needs to manufacture at a certain time period. By forecasting the demand for the products of the business, the organization can plan its production and also inventory levels accordingly.
It is not just an important tool for the businesses that depend on their supply chain to make their products but it is also important for the businesses that provide them with their supply chain services. This includes logistics, warehousing and inventory management amongst others.
The consumer's behavior plays a very important role in the success of any business. Understanding the consumer demand as well as customers' satisfaction is very important in business. With the advent of technology, demand forecasting has become more accurate and provides a better understanding of consumer demands.
With the right cloud management tools in Singapore, businesses can gain transformative modernization strategies for more future-ready operation model.
How is demand forecasting analytics in Singapore done?
Demand forecasting in Singapore has been instrumental in keeping with the country's varied industries. Being a prime origin space for manufactured goods as well as playing major roles along the supply chain, forecasting has been a key game-changer for Singapore. By predicting future sales and stock levels based on historical and current data, businesses are able to get a better guess about the future, and supply for it accordingly. Demand forecasting is crucial in order to avoid stock-outs, overstocking and even lost sales. As a business in Singapore, you want to make sure your products are available when customers want them, and demand forecasting techniques can help you do that. Here's how businesses in Singapore generally leverage different types of forecasting. 
Passive demand forecasting is a technique that relies on historical data to predict future demand. It's a relatively simple strategy that doesn't require sophisticated data analysis. It's most effective for businesses with a large amount of historical data and a focus on consistent cash flow.
Active demand forecasting is a process that uses various types of data to generate predictions about future demand. In addition to historical data, it takes into account economic circumstances, market developments, and other external variables. Businesses that are focused on aggressive expansion are the best candidates for this approach.
Micro-level forecasting is specific to a single business, sector or customer segment. For example, a medical company may estimate insulin demand amongst seniors.
Macro-level demand forecasting takes into account external variables that may affect trade, such as competition, economic circumstances and consumer trends.
Short-term forecasting is a form of demand forecasting that looks no further than 12 months ahead. It focuses on products with fluctuating demand or on managing just-in-time supply chains. Short-term demand forecasting, for example, can prepare a company for an upcoming promotional event.
Long-term demand forecasting is a type of forecasting that is important for businesses because it takes into account things like seasonality and manufacturing capacity. It can be helpful when a company is planning to expand internationally or release a new product. These types of objectives may need long-term planning because they involve creating capital, growing the business, marketing, and future demand.
The importance of demand forecasting in manufacturing
In the manufacturing and retail industry, demand forecasting is a valuable tool for monitoring and adjusting stock levels and ordering frequency. It has several purposes: to ensure that products are available for consumers, to ensure that individual locations carry the right products and to ensure that the company does not stock too much or too little of any one particular product.
Demand forecasting is an important aspect of manufacturing. It helps to ensure that a company is producing enough of its product to meet the demand of the market. Production of the product is also ramped up or down to meet demand. Demand forecasting also helps to ensure that the company will not be left with a stockpile of unsold products. It can used to monitor, predict and plan the future sales of a manufactured product. The demand forecast is the result of the application of forecasting models and analytical procedures on historical data.
Niveus' case study – predict call volumes using Kubernetes & cloud based data analytics
The client, a leading custom Business Process Management (BPM) service provider, wanted to use our cloud-based data analytics platform in order to gain a deeper understanding of their audience. The objective of this project is to build a prediction system that forecasts call volumes for the near future, based on historical data. The platform is built and run on Google Cloud Platform (GCP) using Google Kubernetes Engine (GKE), integrating with multiple systems and importing various data sources. Our solution helped the client to leverage data that was collected by our GCP cloud data integration platform. This allowed them to get insights from various business verticals such as retail, BFSI, and telecom.
To conclude, demand forecasting is still not widespread, but more and more businesses are beginning to understand its importance, and the tools and insight that come with it. By doing this, you can make sure you have the necessary inventory to fulfill customer orders and that you aren't over-producing any products that aren't in high demand. It's important to consider the past sales trends, your competitors' numbers and the economic conditions of your industry in order to make as accurate a forecast as possible. This will enable you to plan your operations accordingly and be able to deliver the right product to the right place at the right time. To learn more about demand forecasting, reach out to our team at Niveus Solutions.
Leverage Data Better For More Agility In Market Response