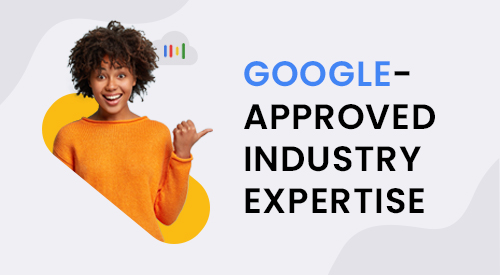 We have accelerated our journey in achieving Google-approved 'expertise' in areas such as modernizing applications, data analytics, machine learning, artificial intelligence and big data, and more. By going above and beyond in projects that require depth in specialties, we expanded our hands-on experience and knowledge in strategic areas of cloud computing, gaining us the experience required to make us a leading Google Cloud Partner with multiple expertise.
Expertise We Have Accomplished So Far
Google Cloud provides expertise in three key areas, namely Industry, Technology / Product, and Solution. Partners who work adequately in bringing in cloud computing to organizations and elevating the way organizations function with GCP, gain specific expertise available in each segment.
We now hold 6 Google-approved Industry expertise, namely –
Media & Entertainment

Healthcare & Life Sciences

Automotive Industry 

Financial services

Cloud Natives

Small & Medium Business
We have gained 8 Technology / Product expertise in the product/technology segment. They are –
Google Cloud Networking

Google Cloud Storage & Delivery

Google Cloud Identity & Security

Google Cloud Compute

Google Cloud Databases

Google Cloud App Dev & Monitoring

Other Cloud Technologies

Google Cloud Onboarding
Niveus has also gained 15 Solution expertise thanks to the innovative solutions developed by our engineering team. They include –
New Business Channels using APIs

Modernize Legacy Applications

Custom-built app migration

Cloud Native Application Development

Data Lake Modernization

Mobile Application Development

Remote Monitoring

Asset Tracking

Data Integrations

Identity & Device Management

Improve Software Delivery Pipeline

Streaming Data Analytics

Content Delivery

Data Processing 

Application Security
Niveus Specializations & Expertise – What's Next?
We plan to gain more specializations and expertise this year. As our client roster grows in volume and weight, we are looking forward to the ground-breaking solutions we will create, leveraging innovative products and technology, and entering new industries and geographies, where we can make our mark as a leading Google Cloud Partner.