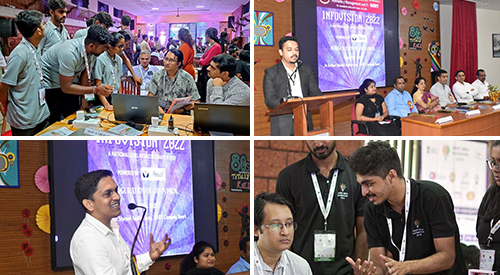 Niveus has been enabling organizations to take in stride the changing currents of the tech world and help them stay ahead of the curve by driving conversations on bringing digital reformation on the business and innovation front. Here are some of the stages and spaces that Niveusians are making a marked impact in.
Here are our Niveusians making a marked impact in different fields –
As a part of the founding dream to build a technological hub and network rooted within the Dakshina Kannada and Udupi regions, Niveus believes in deeply impacting the next generation of engineers. Opportunities such as these are a great way to interact with the minds that will bring about the next revolutionary innovation in technology.
Adarsh Prabhu, Associate Director, Niveus Solutions, inaugurated the national level intercollegiate UG fest – InfoVision 2022, at Information Technology Department of AIMIT, held recently in Mangalore.
With an emphasis on the change in technologies in the past two decades and the importance of self-application and soft skills, the next generation of innovators are called to a new standard of success.
In tandem with our on-campus activities, Niveus has also been involved in social events surrounding upliftment of the social culture in India. Sagar Vaidya, our in-house Cloud Expert Champion, was one of the judges for the Smart India Hackathon, organized by the Ministry of Education's Innovation Cell & AICTE. The Hackathon is a nationwide initiative to provide students a platform to inculcate a culture of product innovation & a mindset of problem solving.
Shipra Rai, our Vice President, People Operations, was a panelist for the recently held webinar presented by Springworks, Slice & Niveus Solutions, on 'How to set up, automate, and scale a successful candidate-centric background verification process'. With a focus on automation taking over most fields, HR Acquisition and Management also stands to gain much from automation.
The innovation team at Niveus, is collaborating with National Institute of Technology Karnataka, Surathkal (NITK) to drive better innovation and ideation in product development and carve out the solutions of tomorrow. The collaboration is positioned to meld the resources, knowledge base and inputs of Niveus and the technology research giant, for building new products and solutions that will propel innovation in business technology.