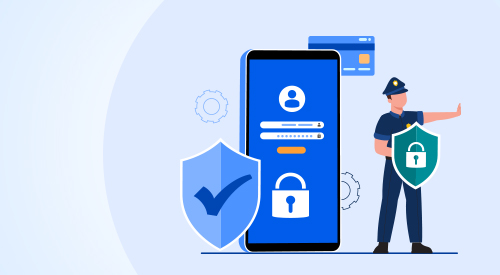 Internet fraud is a major problem for businesses traversing the digital landscape. While businesses have spent a lot of time and money on fraud detection and prevention, these efforts are usually not enough to deal with the increasingly sophisticated attacks happening every day. This blog will focus on how to use Google reCAPTCHA Enterprise to stop bot-based fraud attacks more effectively.

What is Google reCAPTCHA Enterprise
It provides comprehensive protection against bot-based online fraud attacks while enabling real web user interactions to proceed seamlessly. It actively engages users in a human-to-computer interaction that helps you to build trust and protects your site.
The more common web-based attacks including credential stuffing, account takeovers, and scraping can cause billions of dollars of loss for online businesses. Hence, exploring the cloud security options to defend against these attacks has become a primary need for organizations as they conduct their business online.
With over a decade of experience, reCAPTCHA with its versions v2 and v3, has been protecting the web and the data on it. ReCAPTCHA Enterprise elevates this service by incorporating user interaction with new features such as two-factor authentication and mobile application support, for the specific use of online businesses.
reCAPTCHA Enterprise Features & How it works
It uses the "test that humans can pass but computers can't" principle. In other words, it allows users to verify they are human while they are performing some action online. It uses advanced risk analysis and machine learning technologies to detect abusive behavior and prevent it.
This service offers unique capabilities that can be tailored to the needs of any enterprise. With reCAPTCHA Enterprise, your security team can take advantage of more advanced detection capabilities such as additional detailed scores, reason codes for high-risk scores and the ability to tune the risk analysis engine to your site's specific needs. Evolved security features include more accurate assessment, reporting and tuning options so that you know exactly what kind of risks your site is potentially facing.
Here are some of its highlights –
Greater granularity in risk scoring
Increased customizability of risk algorithms and page-specific risk profiles
Market-leading Google Cloud terms of service, availability, and support for mission-critical web applications
Google reCAPTCHA V3 vs Enterprise
There are multiple features included with reCaptcha enterprise that reCAPTCHA v3 does not. Here are a few-
Enterprise is customizable: With Company-specific risk models, risk-based escalation (such as 2FA Support), and enhanced risk scoring, the Enterprise version is more flexible than v3
Enterprise is comprehensive: By providing site wide coverage as well as incorporating Mobile App SDK for Android and iOS, Enterprise covers more ground
Enterprise is made for businesses: With its easy API-based integration as well as Google Cloud SLAs/SLOs and Terms of Service, Enterprise is made for businesses, complete with a support team and a trial version
reCAPTCHA Enterprise Pricing & Demo
reCAPTCHA Enterprise bills its customers on a monthly basis, where the first 1,000,000 calls per month remain free. Past which, the price is measured to 1$ per 1000 calls per month. For sites with more than 10,000,000 calls per month, your GCP sales team would be providing assistance on drawing up your monthly bill. Partners such as Niveus can facilitate in fortifying your online assets. Contact us for a demo to know how.
Online fraud is a big issue and reCAPTCHA is a great tool to fight it. If you're interested in learning more about what reCAPTCHA Enterprise can do for your business, get in touch with us at biz@niveussolutions.com