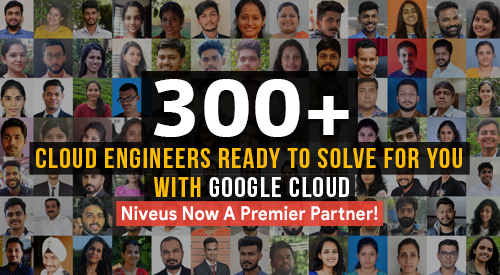 Niveus Solutions, India's Premier Google Cloud Partner headquartered in Udupi, a tier-3 coastal town in Karnataka, provides cloud engineering services across India, Singapore, and the rest of SouthEast Asia. The founders of the company enjoy taking on tough business challenges and solving them. They wanted to follow their passion and find solutions to complex business problems while continuing to work from their hometown. Thankfully, Niveus was able to find many talented individuals harboring similar desires.
Today we have brought together a team of 300+ Cloud Engineers who carry the same passion, dedication, and motivation towards their work.
There were many challenges that had to be overcome in the initial days. Cloud technology was an unfamiliar concept to the majority. Starting a company in a tier-3 city and in an industry that was totally new to many was another mammoth challenge. But there was conviction that the brilliant talent pool available in the nearby education hubs Udupi, Manipal, and Mangalore, which nurtured some of the most brilliant minds of the world (Hint: Microsoft CEO Satya Nadella, Nokia Network CEO Rajeev Suri, etc), would enable the creation of Niveus.
Earlier, talented and skilled engineers who hailed from small towns such as Udupi and Mangalore generally moved to big cities such as Bangalore, Hyderabad, Mumbai, and Delhi, or went outside the country, due to the scarcity of opportunities in their hometown. However things changed fast in Udupi because of Niveus.Today the company attracts and retains local talents who are thrilled by the idea of solving problems for some of the largest enterprises in the world.
Niveus made a strategic decision in 2019 to exclusively partner with Google Cloud India and soon scaled up to become its 'Premier' partner. From a handful of engineers a few years back, our team now comprises 300+ Cloud Engineers; a remarkable number anywhere in the world, leave alone Udupi.
Our engineers have worked with giants across different industries such as BFSI, Healthcare, Media and Entertainment, Digital, Automotive, and Public Sector and found efficient solutions to the complex problems faced by these businesses. Our engineers have developed a digital strategy and platform for one of the largest housing finance companies in India, which led to an increase of 2 percent in the disbursement rate during COVID-19. For a leading bank in India, our engineers developed a platform that enabled faster customer onboarding experience through cloud-native solutions, thereby eliminating time-consuming interactions and improving the digital experience. We have helped one of the largest public sector undertakings in the world to filter out bots and scripts on their eminent platform. In the tough times of COVID, our team worked to build an AI enabled virtual care app for one of the leading healthcare providers. These challenging projects are what we love to work on as a team and fuels our growth.
Our team members belong to different cultures, towns, and backgrounds and have different stories to tell. We are proud of the fact that over 50 percent of our workforce is women.  The story has just begun. We are only 1% done and there's more to come. Join us in this journey as we gear up for accelerated growth in 2021.
Niveus is hiring : https://niveussolutions.com/careers/