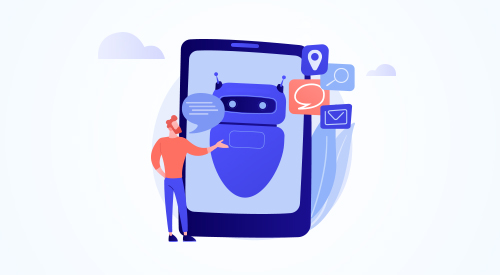 We live in a world where technology is changing the way we work, play, shop and go about our daily lives. Not only is Singapore leading the charge for the adoption of technology, but is also at the forefront when it comes to the adoption of Artificial Intelligence. Chatbots are the future of stakeholder engagement, and now are bringing more benefits and features for your business. Here are the different use cases of chatbot solutions and how Singapore companies are using it to elevate their businesses.

AI chatbot – use cases
Chatbots are incredibly adept digital transformation methods, enabling faster workflows and changing how businesses interact with their customers. Yet, they can do more than just interact with customers. Here are some of the top use cases for chatbots:
Automated site and service support – Facilitating faster decision-making for site and service support for customers
Employee issue redressal and engagement – Businesses can gain key insights into the workings of the organization with employee engagement and issue redressals with chatbots
Customer engagement and personalized marketing – Bringing higher degree of personalization for better marketing and customer engagement
Simplification and automation of tasks – Chatbots can help automate and simplify time-and-effort intensive tasks such as collecting customer feedback
Online order confirmation and tracking – Retail & logistics businesses can gain this exclusive use case for order tracking and confirmation for customers making online orders
Automate sales and leads generation – For marketing & sales teams, chatbots can also help to automate lead generation
Online news dissemination – Chatbots can also help to disseminate online news through private messaging via integrations on social media and messaging platforms
AI chatbot in Singapore – enterprise case studies
For technologically advanced countries such as Singapore, chatbots have more takers among businesses. With AI leading the digital modernization front, more and more businesses are enabling them for ease and convenience. Here are a few AI chatbot solutions developed by Google that are making a marked impact in Singapore – 
A university in Singapore enabled the use of a GCP chatbot to function as a virtual assistant to their incoming batch of students. It was implemented as a part of the virtual freshman orientation held online post the covid-19 pandemic model of education. The chatbot aimed to provide students with a more easier online experience with remote guidance and support for onboarding activities.
A supermarket that specializes in take-out meals during lunch time looked for chatbots to manage their increasing consumer base. The chatbot also aided the business in tackling challenges in communication with foreigners, with its translation capabilities.
A retail business that deals with the sale of electronic devices developed a chatbot with access to their customer database. It provided the customers with information including their range of services, products, staff availability for booking reservations etc., and helped streamline customer service.
The benefits of GCP Dialogflow
Google Dialogflow provides "lifelike conversational AI" to build state-of-the-art chatbots for enterprise use. It is available in two editions: Dialogflow CX for advanced customer experience and services, and Dialogflow ES for standard chatbot services. The benefits of GCP Dialogflow make it an excellent choice for businesses looking to create their own.  With its simplified coding for developers, whipping up a chatbot with Dialogflow is easier. Dialogflow is supported by Google Cloud's Machine Learning capabilities, allowing businesses to keep improving with every interaction. With its natural language API integration, conversations are more engaging and retain natural flow to keep the engagement seamless and smooth. It also accommodates for generating small talk and is not restricted to queries and business-talk, giving a better, interactive experience for customers, and avoiding the monotonous and robotic feel.
Niveus' AI chatbot solutions for enterprises
At Niveus, we build AI-enabled chatbots with GCP Dialogflow and Natural Language API. Here are some of our chatbot solutions:
One of India's top finance companies leveraged our chatbot solution to modernize their web application platform. It allowed the customer to engage with their clients, address issues and queries, and promote services via personalized messaging at scale.
Our chatbot for a healthcare provider based in the US, enables virtual care for patients. It comes complete with audio, text, image, and document sharing capabilities. It runs automated preliminary diagnostics, recommends treatments and arranges for online doctor consultation or in-person booking.
Research identified that 25% of call volumes to the customer support team of our client, was to accommodate changes in travel schedules of their customers. Our chatbot and voicebot streamlined their services allowing customers to make the required changes to their travel schedules with minimal human intervention. This freed-up the customer service teams to focus on more hands-on services and redressals.
Chatbot technology is being widely used by businesses to automate their customer support and other tasks. It provides customers with a human-like experience and to improve their overall experience. Contact us at biz@niveussolutions.com to know how your business can leverage chatbot technology in Singapore.