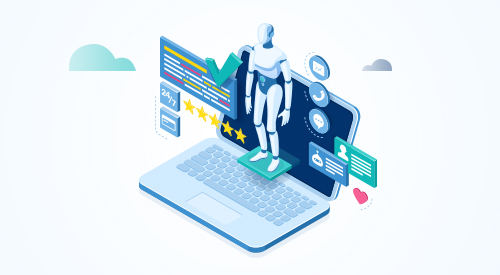 Singapore is one of the world's wealthiest countries and holds a low unemployment rate and business-friendly regulatory systems. A recent KPMG study found that Singapore is the top pick as a prospective world-leading technology center. Survey respondents praised Singapore for its excellent IT infrastructure, robust government backing and intellectual property regulations, as well as its large talent pool. With such a rich background on modernization, the field of Artificial Intelligence (AI) and Machine Learning (ML) in Singapore has piqued the interest of businesses across industries. Here, we will take a look at how businesses are leveraging ML and AI solutions in Singapore.

Artificial intelligence and machine learning are two terms that are often used interchangeably. But when it comes to business, they clearly have significant differences. Artificial intelligence is the organization of machines to do things that normally require human intelligence. Machine learning is a subset of artificial intelligence that teaches computers how to learn from experience without being explicitly programmed. ML allows you to make predictions from data and improves over time. AI is the broader umbrella that includes not just the algorithms, but the computer systems that run them.
Implementation of AI and ML technology in Singapore
Enterprises in Singapore have begun doubling down on AI & ML expenditure, since the advent of the pandemic. In a survey conducted among some of Singapore's enterprises, 76% prioritized AI and Machine Learning (ML) over other IT initiatives in 2021. Six in ten enterprises say prioritization of AI and ML initiatives have increased relative to other IT priorities in 2020-2021.
Customer centric use cases for AI seem to be at the forefront of AI-ML strategies for modernizations. For example, using AI-ML tools for personalized marketing of media content has been a hot take among the media and entertainment industry. Another area of growth for the industry lies in AI/ML based automation for saving time and costs. Automating business operations for cost and effort intensive business have also seen significant prevalence among manufacturing and retail businesses today. AI/ML, whether for the benefit of the customer or for simplifying business processes, has now been identified as a key part of any modernization strategy.
Singapore's AI/ML industry case studies
Improve speed/efficiency of business processes – From detecting skin cancers, analyzing chest x-rays to even performing diabetes screens simply by scanning a patient's retina, the healthcare field is seeing groundbreaking work with AI. A healthcare organization involved in providing dialysis treatment in Singapore, developed a predictive model for hospitalization of patients. By leveraging data from dialysis patients before and during treatment, the team then would feed the data into their predictive model for training. The prediction from the model aided decision-making for the medical team.
Understand employees and customers for higher degree of personalization – a digital native startup is using big data and artificial intelligence to create personalized experiences for customers to improve online retailing experiences by mapping personal tastes across the digital landscape.
Understand marketing effectiveness and real-time insights into digital campaigns – An international school with branches in Singapore is visualizing the contribution of their marketing campaign to the overall business revenue and growth. The model identifies paid search optimization, understanding customer's online behavior, and suggests increasing spend on keywords that convert well. The company's marketing success, enabled by AI, was able to fill in the gaps and drive meaningful data-driven decisions.
Reduce risk and combat threats on the digital landscape, including identifying fraud in real-time – A Japanese insurance company with branches in Singapore is leveraging an AI-based Fraudulent Claims Detection system. This software program is designed to help reduce the amount of time that it takes to review claims, identify fraud and facilitate approval payments out to customers faster. By automating some of the behind-the-scenes processes, product managers can focus on other areas to help improve the customer experience.
Yet, there is a noted friction against leveraging the full benefits of AI/ML among businesses.
Challenges in leveraging AI/ML for Singapore's companies
Difficulties aligning AI/ML strategies to the business – A lot of businesses are not really sure what they are looking to achieve by using AI/ML. Additionally, the departments that are likely to use AI/ML on a daily basis are not sure how they can use AI/ML to help them achieve their goals.
Cost of implementation – Implementing AI/ML and other modernization solutions can be costly for some enterprises. AI/ML solution's general reliance on proper data platforms, integration with existing systems, continual updates, etc make the implementation quite daunting in terms of cost. Additional costs include designing the AI/ML platform itself in a manner that is easily navigated by both the AI/ML and the customer.
Technical infrastructure challenges – Developing a sound AI-ML solution is impossible without the right knowledge, skill set and technology being made available. As such, gaining the right human and technology resources is a challenge for businesses.
General data security concerns – Data security is one of the most important challenges facing businesses today. As more and more businesses and consumers use the internet to conduct business, more and more criminals are taking advantage of AI/ML technology to steal data and company information.
Quality of data – Then there are issues with data quality. AI/ML systems are only as good as the data fed into them. If the data is not of good quality, the output will be skewed. Identifying the location, state and quality of the data is a major challenge for businesses of any size.
Benefits of AI/ML
The challenges withstanding, the benefits that come with AI/ML can fundamentally change the way businesses operate. AI/ML carries benefits including:
Automation of mundane and time-consuming tasks
Augmentation of human problem-solving capabilities
Enablement of businesses to be more competitive, leading to innovation
Disruption of status quo for entire industries, challenging them to improve services and products
Accelerate your business with Niveus' AI/ML solutions
Niveus has extensive experience in AI/ML applications for businesses across industries such as FSI, healthcare, retail and manufacturing, and more. Businesses across the globe are leveraging Niveus' deep expertise in AI/ML technologies to provide innovative solutions that provide value to their customers. Our ability to provide turnkey solutions such as automated document processing, video intelligence solutions, AI Chatbots, and more, using GCP technologies has made us a strategic partner for ML and AI solutions in Singapore. Our AI/ML solutions can be easily integrated into existing applications or IT infrastructure for Singapore's businesses. 
Businesses across industries are increasingly looking to adopt artificial intelligence and machine learning technologies to process their data and make better decisions that can lead to improved business results. If you would like to find out how Niveus' ML and AI solutions in Singapore can help your business, please email us at biz@niveussolutions.com