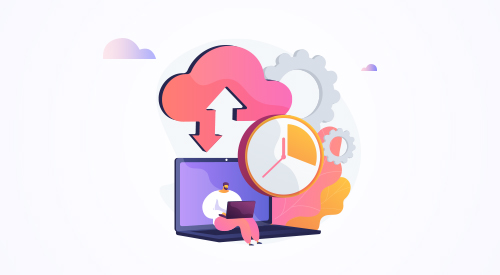 As with all innovative technology, the digital era poses a unique challenge for businesses to solve. One of the most prominent challenges is rooted in data security and retrieval. As businesses look for ways to secure their data and have in place the appropriate data retrieval mechanisms, cloud technology is proving to be a popular and verified answer to this challenge. Cloud backups are a useful way to secure your data in non-physical servers, and data recovery is a useful solution to use if you do end up losing your data. There are many different types of disasters that can threaten data, including: power outages, natural disasters, fires, thefts, and more. A good backup & disaster recovery solution should have a number of elements to appropriately address these. Here we will look at GCP's cloud backup & Disaster Recovery solutions in Singapore and how it helps.
Preserve your data with us
As a GCP Partner in Singapore, we know what it takes to protect business data. To start, a proper cloud backup and disaster recovery solution needs to have a good infrastructure. This is vital for ensuring that your information is safe at all times. You would also want to make sure that the cloud service provider has a good interface. With a good interface, you'll be able to easily access your information in the event you need data recovery. The provider needs to have good 24/7 monitoring, too. By having this, you'll be able to guarantee that your information is safe, even in the middle of the night. You'll also have to check the provider's redundancy. With redundancy, it'll be more likely that your data is safe and that you'll be able to access it when you need to.
The need for cloud disaster recovery
With the ever-changing global IT industry, it is only a matter of time before new challenges arise that threaten to disrupt the status quo. As a technology leader in the APAC region, Singapore has developed a requirement for reliable cloud backup and disaster recovery solutions that can easily be integrated into any business' IT infrastructure. The need for a disaster recovery plan is no longer a choice, but a necessity in today's corporate world. The escalating risk of cyber attacks, power outages and natural disasters has compelled businesses to invest in a Disaster Recovery (DR) plan. Over the years, cloud computing has evolved as the most convenient and cost-effective option to ensure business continuity.
Cloud backup is a common term used to refer to all services that protect data in the cloud. Since data is stored in the cloud, it is always accessible and ready to be used. However, threats to the cloud, including disasters and cybercrime, can strike at any time, and this is why disaster recovery solutions are a must. Disaster recovery is a business continuity process designed to get a business back on its feet in the event of a large-scale disaster, such as a natural disaster, an attack, or an extremely damaging hardware failure. However, the systems that businesses depend on today – especially those in the financial sector and healthcare – simply cannot be allowed to fail. The solution, then, is to develop a disaster recovery plan that allows you to continue functioning in the event of a disaster.
In the cloud, data is spread across a large number of servers. When one cloud data center suffers an outage, the other centers can continue to operate. One of the ways businesses in Singapore protect their data is by preserving it. Data preservation is achieved through a process called data replication or data mirroring. Data replication involves creating a copy of the primary data for backup and disaster recovery. When the primary data is updated, the replicated data is also updated. Data replication involves copying the data from one place to another. Typically, the primary data is placed on a highly available and resilient storage device. Data replication can be used in cloud and on-premises environments to protect servers and applications.
The benefits of cloud Disaster Recovery solutions
Cloud disaster recovery solutions have become a popular feature in the industry as businesses look for more efficient ways to protect their data, and as a result, their business. Let's take a look at what are the benefits of cloud disaster recovery.
Cloud disaster recovery solutions make sense for many businesses because they are cost effective, flexible, and easy to manage. For starters, cloud disaster recovery solutions don't require you to install and maintain any hardware or software. You won't have to worry about the time and resources needed to set up a disaster recovery site or to transfer all of your data to that site. This will free up time from your usual workload and give your business the security it needs.
Before the rise of cloud computing, businesses that wanted to back up their data had to purchase physical storage drives to store the data. Today, it's common for companies to store their data in the cloud. And that's a good thing, too. Not only does it make it easier to access your data from a variety of different devices, but it also makes it easier to back up your data. Businesses in Singapore are already moving their services to the cloud.
Cloud Disaster Recovery solutions in Singapore
We understand how critical the need for a robust backup and Disaster Recovery (DR) mechanism is for securing your cloud environment. We offer Actifio GO, Google's all-in-one backup and DR service that protects your cloud assets across GCP and hybrid cloud environments.
Benefits include-
Reduced Total Cost of Operation (TCO)
Increased Flexibility
Simplified Pricing
Improved Recovery Point Objective (RPO) and Recovery Time Objective (RTO)
GCP's managed backup and Disaster Recovery (DR) service for centralized, application-consistent data protection is another way to guard against data loss. With this, businesses can protect workloads running in Google Cloud and on-premises by backing them up to Google Cloud Storage. You can also recover your data in the event of a disaster by directly accessing your data on Google Cloud Storage.
The Benefits include –
Protects workloads running in Google Cloud or on-premises by backing them up to Google Cloud Storage
Recover data in the event of a disaster by directly accessing your data on Google Cloud Storage
Provides a range of recovery options to meet your unique business needs
Lets you leverage your existing Google Cloud services and tools
Businesses have always relied on technology as a means to stay competitive in their industries. However, with the rise of technology comes the rise of cyber crime and data breaches. If you don't protect your data and systems, you could be easy pickings for a cyber criminal. As a leading provider of disaster recovery solutions in Singapore, we understand the importance of having a reliable and secured backup solution in place.
To Know More About Our Cloud Backup And DR Solutions