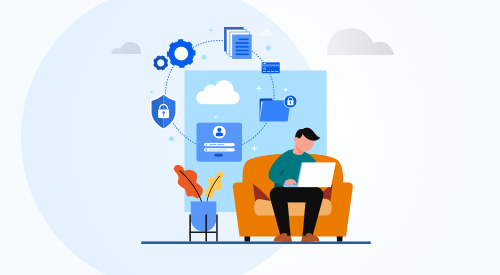 Cloud computing has been growing extensively in the APAC region. By 2025, the cloud computing industry within Southeast Asia is predicted to reach $40.32 billion, owing to the growing demand in the region. Yet, making a decision when it comes to what type of cloud computing is required, may not be as simple as some think. Leveraging hybrid cloud solutions & services in Singapore & Malaysia, has to be a key consideration for furthering business growth & innovation.

Designing a suitable hybrid cloud strategy and accordingly designing a cloud infrastructure, can help your business to save considerably. A hybrid solution is a mix of on-premise assets with private/public clouds that are integrated and work together to help support an enterprise target operating model. It has been demonstrated that the value derived from a full hybrid, multi-cloud platform technology and operating model at scale is 2.5 times the value derived from a single platform, single cloud vendor approach.
The state of hybrid cloud in Singapore & Malaysia
Even in the pre-pandemic era, the cloud industry in Singapore and Malaysia had seen growth and adoption.Yet, harnessing the full capabilities of their cloud environments can be a challenge for some organizations.  The cloud has enabled businesses to merge old, new and emerging technologies into state-of-the-art offerings that have transformed their operations and even their industries. Studies have shown that hybrid cloud provides a way for on-prem businesses to stay ahead of the competition and keep up with the latest changes in technology.
As per study, almost 51% of Malaysian respondents reported an increase in their hybrid cloud investments as a direct result of the pandemic. 48% of Singapore of advanced cloud businesses mention the requirement of a "single pane of glass" management approach for better visibility and control costs across all their clouds, vendors, clusters, and data. Singapore Press Holdings, for example, has been using hybrid cloud technology to expand their online presence. This allows them to personalize stories according to reader preference, which makes for a more comfortable experience overall. Thus, the need and demand for hybrid cloud solutions and services in Singapore and Malaysia then require the expertise of a truly adaptable cloud provider such as GCP.
Challenges in deploying a hybrid cloud environment
The transition to a hybrid cloud infrastructure can be difficult for many organizations, especially during the initial steps or pilot phase. It's important to ensure that mission-critical applications will continue to run smoothly and without interruption. Additionally, businesses need to make sure that associated tools and apps for automation, development and testing, monitoring systems, and databases are all ported to the new system, or are equivalently replaced on the cloud.
Another area of concern for businesses in Singapore & Malaysia is costs on cloud. Cost optimization in the IT infrastructure is a major point of focus for businesses looking to hybrid. Pitfalls in migrating without due consideration include capacity utilization discrepancies, unanticipated requirements, overlooking of smaller (but essential) operations, not de-provisioning resources on time, and the need for multiple providers or vendors.
Security is also a major area of concern. Ensuring hybrid cloud security is a process that requires careful attention to detail. The flexibility of hybrid cloud systems can pose security risks, if not properly configured. It is important to have a centralized policy for security and compliance, and to monitor and patch systems regularly.
Governance & compliance also can be a challenge for businesses in Singapore. When working with hybrid cloud, it is important to keep in mind that it is more complex than other forms of cloud storage. In order to make sure that everything runs smoothly, your goal should be to standardize the processes and operations across every component, and cloud system. In industries such as health and finance, compliance regulations state that each public or private component of a hybrid cloud environment needs to be evaluated as a separate system. This means that data storage, access, and transfer, as well as availability, capacity, and disaster recovery must be planned for from the get-go.
Hybrid cloud solutions & service providers
When incorporating hybrid clouds, the right management strategy is key for a successful implementation. Managing hybrid cloud resources in a unified platform is much simpler than attempting to manage individual environments. When you try to manage individual environments separately, you're more likely to have process redundancies, and you're also exposing yourself to greater security risks. If each solution isn't optimized to work well together, it can create security problems. Choosing the right hybrid cloud architecture can help prevent many of these problems by limiting the exposure of private data on a public cloud.
GCP, as a cloud service provider in Singapore, has taken extensive measures for developing hybrid and multi-cloud technology. Anthos, for example, solves challenges in hybrid and multi-cloud management for businesses, helping them to manage their cloud and on-premise resources, all from a single platform. Be it on-prem or cloud, Anthos will meet you wherever you are. You can move existing workloads from a mainframe environment to Compute Engine or Google Kubernetes Engine. This can provide your apps with additional value, such as complex analytics from BigQuery. Actifio Go, GCP's disaster recovery and cloud backup services can add Cyber Resiliency for your hybrid environment.
On the other hand, Google's Migrate to Containers approach, further simplifies hybrid environments to help businesses to intelligently extract, migrate, and modernize applications to run natively on containers with Kubernetes and deployed with Anthos clusters. With Google Cloud's API management platform Apigee, you can govern, analyze, and get visibility into all your APIs across hybrid and multi-cloud environments. This platform makes it easy to keep track of all your APIs in one place, making it simpler and faster to manage them. Partners such as Niveus can help formulate the ideal hybrid cloud strategy for your business for gaining more from an integrated approach to cloud.
It's no surprise that hybrid cloud strategy is becoming a valuable part of any business' infrastructure for enterprises based in Singapore & Malaysia. With the benefits of flexibility and increased efficiency, it makes sense that more and more businesses are jumping on board. We would love to chat with you about your cloud strategy!
Contact us at biz@niveussolutions.com to know how Niveus can help your business leverage the best of on–prem and cloud environments.