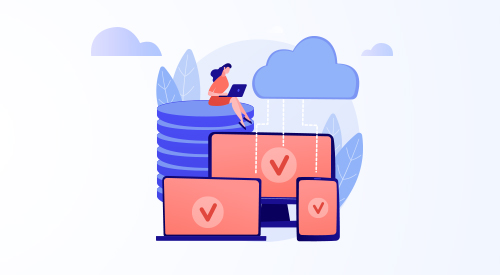 Cloud managed services can help your business run more smoothly and efficiently and are great for small businesses. It is a kind of service that allows you to manage your cloud environment via a unique dashboard. With these, businesses can focus on their core competencies and operations, leaving a cloud service provider to look after everything else. Here we will look at the different features that a cloud managed service provider should have, and at the different points to note in choosing the right provider.

The importance of cloud managed services in Singapore
Cloud managed services may be a relatively new concept in Singapore, but they have been around in other countries for quite some time. These have also exploded in popularity in recent years and there are a few reasons why. The cloud managed services market is rapidly growing and is expected to reach USD 139.4 billion by 2026. This industry has a Compound Annual Growth Rate (CAGR) of 10.1% and it is growing at a rapid pace.
Businesses can be demanding at times. You need to be in control of your data, without having to be on constant standby to update your software or programs. When you choose a cloud managed service, you can rest assured that your IT infrastructure is being managed by experts who already have the experience to keep your business up and running, even during unexpected outages. By focusing on the needs of your business, you can free up your valuable time to focus on other areas that are important to your business' success.
Checklist for cloud managed services
Reputable and experienced partner: You'll want to look for a reputable company with plenty of experience in business and outstanding client references as your managed service provider. Make sure that their staff is well-educated in current technologies and committed to continuous learning. You'll also want to look for a company that demonstrates specialization in important areas with multiple staff members. Having just one person try to know everything is impractical and will only result in subpar work. In today's digital economy, there are too many moving parts for any one person to know everything.
Favorable SLAs: Ensure that your contract includes provisions for Service Level Agreements (SLAs). These agreements should be clear and concise, outlining the most common types of IT issues that could impact your business and the response times you can expect from your service provider. Make sure there is a clause dedicated to committed service responses for critical issues or emergencies. Other important clauses to look for in an SLA include change management, processes and controls, access policies, and infrastructure resource management. By having these clauses included in your contract, you can rest assured that your service provider is committed to keeping your business up and running smoothly.
Pay attention to RoI: If you're looking to cut IT expenses as you scale up your company, consider working with a Managed Services Provider (MSP) or Cloud Services Provider (CSP). For example, if your business has operations in two different regions, you can eliminate the headaches associated with servers, middleware, backups, and compatibility between two systems by adopting a single new SaaS POS system. You can now provide your application to users through the cloud on an as-needed basis. You could add inventory features for 20 employees for twelve months or scale back on financial functionality for ten users for six months during off-peak times. This way, you can save on costs while still providing a high-quality product that meets your users' needs.
Shared Service Options: As a small or midsize business grows, a key decision must be made about the data center. Are you going to keep paying for storage, software, servers, routers, switches, and other communications hardware? Don't forget the cost of power, HVAC, and office space lease expenses. A managed service provider could be a great solution for your business needs; some providers have the ability to create a special arrangement where you would still own and configure your equipment, but share the operating costs and floor space with other businesses. This type of collocation arrangement could be a great option for your business on a temporary basis.
Fee structure: It's important that you try to learn about a potential vendor's fee structure in advance, and it's also a good idea to get competitive bids from three similar firms. Be cautious, though, if you discover that the vendor profits from marking up prices on software, hardware, or other equipment. In that case, you may not be aware of the value they deliver in that price margin or of other hidden costs they must endure.
Managed cloud services available with GCP & Niveus
With managed cloud services, you can simplify your IT infrastructure and reduce your costs by letting Google and other industry experts handle specific tasks (such as network configuration, software patching, and hardware maintenance). By focusing on what you do best, you can focus on your core competencies and leave the rest to Google. GCP offers several managed services that can increase your team's productivity, lower your IT costs, and free up your time to focus on your core competencies.
GCP as a cloud managed service in Singapore is boosted by their service providers such as Niveus, which cover a wide range of services. We make managing your systems and devices much easier. At Niveus, we have a team of expert cloud engineers who have been providing Google Cloud managed services to organizations all over the world. Our team of Cloud Engineers have been handling maintenance, supervision and management of GCP environments for some of the largest organizations across industries. This has included providing GCP as a managed service. As a result, we have enabled our customers to leverage the best of Google Cloud solutions. We have also smoothened operations, enhanced security and compliance, strengthened agility and enabled them to focus completely on important business priorities.
Niveus' managed cloud service helped organizations across industries to –
Save cost
Enhance productivity
Improve maintenance
Strengthen disaster recovery
Strengthen compliance
Boost security
Amplify scalability
Power business
business
Cloud managed services in Singapore can be a good resource for businesses that need computer networks to run smoothly with little effort from the employees. With these, it is possible to implement a remote IT service that will keep your company running smoothly and at peak efficiency. To find out more about Niveus' cloud managed services in Singapore, connect with the team at biz@niveussolutions.com