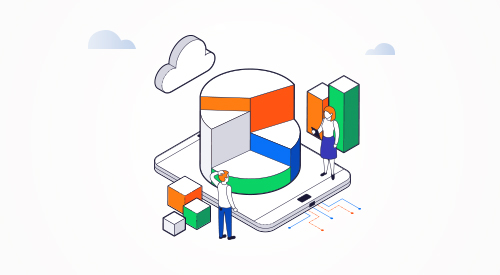 The business world is changing at lightning speed as cloud technologies are being adopted as the best fit for most businesses. As such, businesses in technologically forward countries must make sure that they are adopting the right cloud modernization strategy that can help them leverage the benefits of cloud while managing the risks. Here, we will look at the different aspects of cloud modernization strategies, and how they can help facilitate business processes.
Leverage the best-in-class cloud solutions the right way
A majority of companies have historically leveraged on-premises solutions to meet their business needs. However, as businesses embrace digital transformation and a mobile-first world, the IT landscape is changing. Cloud computing has revolutionized the way business is done across industries. It has completely reshaped the way enterprises go to market, innovate and collaborate with each other. Cloud services have made it possible to democratize business solutions, eliminate unnecessary costs, and optimize the way companies operate. With the advent of cloud computing, organizations no longer have to buy expensive hardware and can rent access to powerful, scalable and reliable infrastructure on-demand.
Choosing the right cloud modernization strategy
Enterprises have realized that moving to the cloud is a necessity in order to compete in the digital economy. The cloud works really well for organizations looking to reduce total cost of ownership, prevent negative impacts on functionality and usage, and leverage infrastructure that keeps up with the changing business and IT requirements.
With cloud, businesses can also gain a more agile foundation for future innovation and digital transformation. It offers the agility, flexibility, and scalability to meet the increasing demands of modern businesses. Cloud computing enables businesses to focus on their core competencies by outsourcing the non-core activities to cloud service providers.
As businesses continue to digitize, the need for effective cloud modernization strategies becomes more apparent. However, with so many options available, it can be difficult to know where to start.
One of the most important considerations is to ensure that you are deploying the right mix of public, private, and hybrid clouds. This will ensure that you have the flexibility and scalability to meet your future needs.
It is also important to consider the security implications of your cloud modernization strategy. With sensitive data being stored in the cloud, you need to be sure that it is safe from potential cyber threats.
Finally, you need to think about the costs associated with cloud modernization. While the upfront costs may be high, you need to consider the long-term benefits of improved efficiency and productivity.
Technical considerations for building your cloud strategy
To help your business integrate a cloud environment, it's important to consider the multiple challenges that come with it. First and foremost, it's critical to determine the performance and security requirements. Once you've established these requirements, you can begin by identifying the applications and systems that need to be moved or replaced with new cloud services. In the next step, you must take the time to make sure that your users have access to the same information and applications from any connected device. In addition, you should also consider the system security and performance between on-premise and cloud services. Finally, you should make sure that the network can handle the high traffic loads. Here are a few strategies to gain the most out of cloud –
Look to optimize for business outcomes, including speed, resilience and agility: A great cloud strategy is about more than just the technology. It's about how you can use the technology to achieve business outcomes. This strategy should be designed to optimize for your business objectives, not just from a cost perspective, but also from a speed, resilience and agility perspective.
Enable hybrid cloud architectures with distributed cloud strategies: Distributed cloud computing can help you achieve the success you want for your business. By embracing this technology, you will be able to implement hybrid cloud architectures in your company. Hybrid cloud architectures can help your business work more efficiently and decrease costs.
Bridge the talent gap with cloud service providers: With the number of cloud-based tools, services and solutions available today, there is no shortage of options to help enterprises modernize their IT infrastructure. However, implementing the public cloud can be challenging for organizations, so finding the right partners with the right skills is crucial to the effort's success.
Modernizing business processes for enterprises
As the business landscape shifts, IT leaders are challenged to chart the course for their organizations. From industry disruption to new regulations and compliance, organizations must navigate a variety of external factors to remain viable and competitive. And in the enterprise, the pressure to increase agility and remain on the cutting edge can often have enterprise IT teams looking for ways to deliver on business goals.
However, one of the biggest issues of cloud computing is that not all businesses will get the same benefits. This is because cloud computing can be implemented in numerous ways, which makes it very difficult for enterprises to understand the best ways to modernize their business processes. It has evolved over the years, and so has the way enterprises implement it.
We, at Niveus, help businesses leverage the right modernization strategy for optimal business outcomes. We help organizations achieve seamless vision into the future with our cloud based platforms that help firms to analyze and optimize business processes and navigate the complex IT landscape without any hassles. Our application, data and infrastructure modernization strategies are helping businesses to do more with their assets with cloud. 
The pace of change in technology is happening faster than ever. As a result, your business is faced with the challenge of adopting new cloud-based solutions faster than ever before. Here at Niveus, we have a team of experts who will help you to determine the right cloud modernization strategies to deploy. Start with the first steps to ensure that your business is on the right path.
Make the most of your cloud investment with Niveus