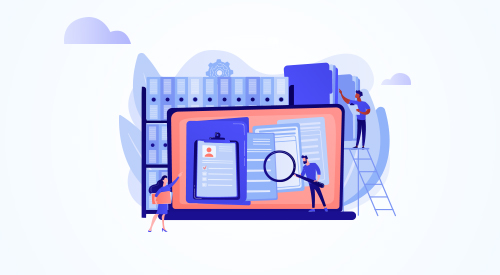 OCR technology is on the rise and is making it easier for businesses to perform their day-to-day functions. From payments to campaigns, from business processes to fraud prevention, from internal systems to customer service, there is a growing need for the technology across all industries and it is fast becoming a crucial component for any successful business. The APAC region is one of the most active regions in the world in terms of business process optimization, with many countries within the region also having a high population of smaller businesses. Here, we will look at how GCP's OCR software in Singapore can bring transformational development across industries such as FSI, healthcare, retail, manufacturing, and more.
Harness the power of OCR technology with GCP in Singapore
OCR, or Optical Character Recognition, is the process of converting images of text into machine readable text and enabling machines to process it. Though it has been in use for quite some time, there was a time when the OCR technology was too slow for even the simplest of tasks. However, with the advent of modern technology and with the APAC leading the way, things are fast changing for the better to the extent where OCR is being widely used for different purposes.
The state of OCR software in APAC
As per a recent study on the global OCR market with forecast 2022-2030, the Asia Pacific market is expected to have the highest CAGR, or annual growth rate, of 18.0%. This growth seems to be largely due to the significantly increasing investments in AI and related technologies in the region.
For instance, a Chinese AI organization, widely used for AI-enabled smart lifestyle services including intelligent retail, cities, homes, and communities, has decided to expand its business and develop AI vision processor chips. A Korean AI enterprise with focus on autonomous driving and smart city, has increased its investments in AI technology towards building better AI data labeling services. Google Translate, for example, leverages OCR technology giving users the ability to translate and read in any language, a major aid for travelers and tourists.
With Singapore's head-long dive into technological advancements for refined lifestyles, AI and ML solutions have garnered almost center-stage attention by business and government leaders alike. OCR software in Singapore then has a significant space to help businesses to streamline their operations and more.
OCR use cases in Singapore & APAC
Here are some of the ways businesses in APAC are gaining key benefits from OCR –
FSI industry – OCR solutions also help the banking and financial sector significantly by aiding their document processing and verification routines via automation. With its sensitive information capabilities, it can aid FSI organizations in automating claims processing for faster transactions, data updation and maintenance, including personal and security information and much more.
Retail and manufacturing – OCR can help businesses process large amounts of customer, employee and vendor data. Details from bills to customer and vendor contacts, to business stats and figures in reports, all documents can be digitized for quicker analytics.
Healthcare industry – Digitization of documents including patient and hospital records, diagnostic reports, tests and procedural reports, and much more can be accelerated with OCR.
OCR for media industry and communication field – OCR aids in digitization of longform content including hardcover books, unstructured documents, allowing faster communication dissemination.
Logistics, transport and aviation – Travelers can gain significant time-efficient services at transportation hubs such as airports with automated check-ins and ticket verifications via OCR, reducing wait time and streamlining flow of passenger traffic.
Judicial and law firms – OCR is a key investment for document heavy fields such as legal and judicial industry. It helps businesses to digitize documents for a more secure and easier way to store and process such as witness testimonies, affidavits, rulings, statements, wills and claims. By digitizing these documents, legal firms can gain better control over their resources , and be secured against loss of data via theft, destruction or foul play.
OCR provider in Singapore – Case studies
Niveus has always been committed to solving business challenges with GCP solutions. To support business requirements, Niveus has developed a Big Data OCR solution that aids businesses in processing the huge volumes of documents in their workflow. Niveus' OCR capabilities are designed to be cost-effective, fast and easy-to-use. The OCR engine frees-up manual resources and automates your back office processes.
As a leading GCP partner in India & Singapore, Niveus has been making considerable strides in cloud technology development, enabling better business experiences in Singapore. 
A major technology company specialized in global trade in Singapore, is now preparing to leverage our OCR solution to improve their permit and bills processing system, for faster processing via automation, better scalability and versatility to cope with wide ranging source documents
Our integrated OCR technology elevated the instant banking services for a leading private bank in India. By expediting their NRI customer verification and onboarding process, the solution cut down their form filling turnaround time by 50%. It also automated certificate verification for meeting government regulations for businesses.
Our technology also aided a leading housing finance company, for expediting their loan processing time and improving loan disbursement from 3% to 5%, on their newly-hosted GCP application.
Our OCR software technology also aided a BPO in streamlining their billing and financial management system, helping them keep track of their customers' billing data and more.
Without doubt, data capture for analytics and processing is a key driver for better innovation in managing actionable insights from data. With business automation gaining new advancements in security and better streamlined services, especially in the area of AI and ML, businesses are moving away from the manual and tedious way of traditional data and document processing to smoother experiences for business and customer alike.
We are keen to detail how our OCR solutions work and how it can help your company.
Embrace the OCR revolution with GCP's OCR software in Singapore