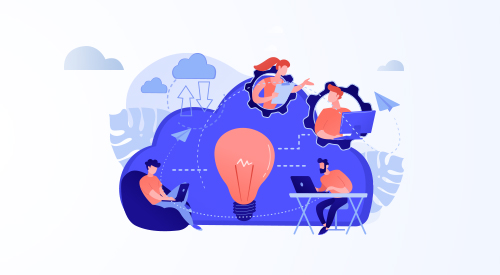 The cloud is fast becoming a very significant cloud market in Asia. Public cloud services were expected to add $US258 billion to the Asia Pacific economy, which is 0.8% of GDP. This is expected to grow by 2024. This is mainly attributed to the fast adoption of cloud technology in Singapore and the extensive government support. Here we will look at the state of cloud technology in Singapore and the outlook of this cloud market.

Cloud technology has been around for a while now. It has been in Singapore for some years with service providers, such as Google Cloud Platform, Amazon Web Services and Microsoft Azure. The cloud has helped businesses run easily without the hassle and costs of running infrastructures. Here's how Singapore is leveraging the cloud for business development.
Overview of the cloud technology in Singapore
Singapore is now one of the top countries for technology companies to set up cloud servers. The main reason behind this is the country's high level of internet connectivity and advanced data infrastructure. As a result, Singapore's cluster of data centers is growing as more and more businesses register their cloud servers in the country. With the right conditions in place, Singapore is well poised to become the next data center hub in Asia. Google Cloud Platform's newest facility in Singapore is a hub for cloud technology innovation. The new South-East Asia region has been created to support the demands of the region's growing technology sector and the needs of multinational corporations operating through the region. Google Cloud services provide businesses with a scalable, efficient, and cost-effective solution to run their operations.
With the ever-growing need for cloud computing services, Singapore has become a key player in the cloud industry. The country has been making a huge contribution to the industry by being one of the first to offer reliable, high quality cloud services. Singapore has also been a very important training ground for people to learn about cloud technology.
As cloud technology becomes more accessible, businesses from different sectors and of different sizes are weighing the benefits of cloud technology. Not only is cloud technology cheaper and more efficient, it's also flexible, which means it can be used for a variety of purposes.
Why leverage cloud technology in Singapore
In the past few years, cloud technology has been the talk of the town. Many businesses have invested in cloud technology due to its easy, affordable and fast deployment. Its popularity is not without reason. The cloud has a ton of benefits that make it an attractive option. It's not surprising that many businesses are considering cloud technology solutions to power their business. Cloud technology solutions can be deployed in different regions, saving your business a lot of time and money. You can also expand your business without worrying about the infrastructure and hardware. The cloud also has a strong security mechanism that can protect your data as well as your website from any security breaches. If you have not explored the benefits of cloud technology for your business, you should do so now. The cloud managed services as well, have a lot to offer. With these services, businesses can re-prioritize their operations and activities, moving away from infrastructure and cloud maintenance, to more mission-critical, business core services.
The evolution of cloud network technology in Singapore
The cloud networking revolution has grown leaps and bounds over the last decade. Companies like Google Cloud Platform are pushing the boundaries of what's possible with new technology. They're helping organizations and businesses make smarter decisions by allowing them to focus on mission-critical tasks instead of the infrastructure required to make them happen. In the coming years, organizations will be able to focus on creating new value for their customers as opposed to spending time on existing systems.
As Singapore adopts more efficient and sustainable technologies, the city is quickly becoming a favorite place for startups. Google Cloud Platform is committed to partnering with Singapore enterprises to empower them to compete on the international stage.
Case studies – How Niveus & cloud technology helps businesses in Singapore
Cloud native application development delivers better values for making a marked business impact, by smoothening the business journey from an idea all the way till production. At Niveus, we harness the power of cloud technology to build innovative products and solutions to solve operational challenges and meet business needs.
We built a cloud application solution that could be used on multiple platforms. This included a secure CI/CD pipeline. The Singapore-based Mobility-as-a-Service (MaaS) and payment startup was able to accelerate their go-to-market with this solution.
We evaluated how a Singapore-based market leading AI-powered technology solutions provider managed its core and customer repositories, as well as how it delivered updates to customers, in order to advise them on the best practices and provide recommendations/feedback on their current processes.
A Singapore–based technology company that specializes in global trade is gearing up to use our OCR-based software to improve their permit and bill processing system with automated document processing. The new system is faster, more scalable, and more versatile.
Cloud technology is the future and with Singapore being a key player in the technology evolution, there is no question that cloud will improve the business ecosystem. To find out more about Google Cloud Platform and how it addresses the challenges of your industry, contact us today at biz@niveussolutions.com