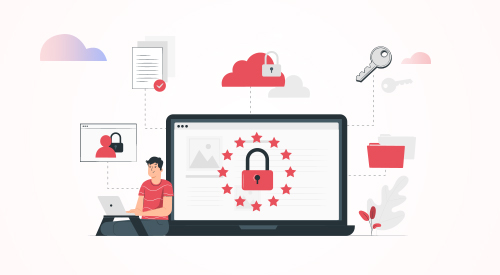 It's almost impossible to imagine a world without mobile devices and the explosion in the number of ways that we can now connect to the internet. This explosion has led to a rise in cyberattacks, which highlights the importance of strong cyber security. As the security landscape changes, businesses need to adapt to stay ahead of the curve. Security needs to be an enterprise-wide initiative and not just an IT project. Here we take a look at the importance of BeyondCorp Enterprise, the Zero Trust security solution, and how Google has implemented it.

No matter what kind of organization you are, the need for security remains the same. Whether you are a large enterprise or a mid-sized business, either way, you are vulnerable to cyber threats. BeyondCorp's Zero Trust security is an extremely effective and powerful security model. This approach supports the 'new normal' of today's work – balancing the need to keep the workforce secure and productive, while working from anywhere.
Need for infrastructure security
A recent study covering dozens of industries across the globe, found the state of cyber security for enterprises precarious and in need of immediate attention. 45% of breaches featured hacking and 70% of attacks were perpetrated by external actors. 8% of breaches were misuse by authorized users. While 72% of breaches involved large business victims, 28% of breaches involved small business victims. 
The traditional perimeter security model, which assumes that everyone is connecting to work from one central, on-premises location – showed its scaling problems with the rapid shift to remote work in 2020. In today's business world, when more and more companies are switching to remote workforces, many are seeing it as a new and unique opportunity for cyber attacks. Traditional employees work in defined work areas with well-defined security policies and practices. Remote workers, however, typically work from home or co-working locations with very little in the way of physical or digital security. This leaves the door wide open for a cyber attack. This model wasn't built to account for the security needs of every single employee's house or remote working space. To address these needs, organizations are turning to cloud security solutions.
In recent years, there has been a significant shift in the evolution of online security. It used to be that trust was implicitly given to anyone connected to the same network. But with the ever-present risk of hostile actors accessing the network, or even creating a malicious network of their own, it is no longer enough to assume that the user is approved for the same network as the information they are accessing. With Zero Trust security solutions, a user's security context is evaluated for each connection attempt, and network and data access is granted only if the user is determined to be sufficiently trustworthy. Such a model reduces the risk of successful network attacks by ensuring that even privileged users are not automatically granted access to all corporate resources. This approach also mitigates common security risks and vulnerabilities, including phishing attacks that attempt to trick users into providing sensitive information.
Implementing Zero Trust security solutions
Zero Trust security is a term for security models that don't rely on predefined trust levels. In a Zero Trust security model, all users and devices are treated in the same manner, regardless of whether they're inside or outside the network perimeter. Zero Trust security solutions are designed to address the shortcomings of traditional security models, which tend to be based on a perimeter-based approach. Perimeter-based security models assume that everything inside the perimeter is trusted, and everything outside is untrusted. This approach is no longer effective in today's world, where data breaches are becoming more and more common.
Zero Trust security models are based on the principle of least privilege, which means that users are only given the permissions they need to do their job, and nothing more. This approach helps to reduce the attack surface and limit the damage that can be done in the event of a breach. It is an important part of keeping your data safe, and it's something that all organizations should be considering.
BeyondCorp Enterprise is a Zero Trust security solution, built on Google's global network, which provides customers with simple and secure access to applications and cloud resources, while offering integrated threat and data protection. The solution's key highlights include a secure, agentless architecture that ensures only authorized users from trusted devices can access a specific set of resources.
BeyondCorp Enterprise – Google's Zero Trust security model
BeyondCorp's implementation of this model has been recognized by Google, who has chosen it as the default for the way all Google employees access their work email using a mobile device. In addition, Google recommends that companies use the BeyondCorp architecture for their infrastructure security implementation. Companies that have employees who work remotely can still benefit from this type of security. It is a great example of how Zero Trust security can be used effectively, and small businesses can use this same model to experience similar benefits without the need for a large IT staff. The solution comes with malware sandboxing, phishing protection, sensitive data leakage protection, restricted access to console/APIs with device attributes, device-based rules as premium tier features.
The BeyondCorp methodology and the technology behind it, has the potential to change the way organizations think about security, and ultimately the way they implement security. As a Google Cloud Partner, we understand how it's a different way of thinking – one that we believe will put security experts in a more proactive role in your organization. Google's BeyondCorp Enterprise for Enterprise Cloud Services is all about taking the next step in security: Moving from perimeter security to Zero Trust security.
In order to get a better understanding of how BeyondCorp works, contact us at biz@niveussolutions.com